The Seed Pantry Christmas Gift guide will have your presents ready for planting under the tree at just the right time.
Christmas at Seed Pantry is an exciting time, the Spring garden is just around the corner and it's the start of a whole new year of growing. Here we have created the ultimate Christmas Gift Guide for Gardeners, to help you find that perfect present for your plant loving family and friends.
The Seed Pantry Monthly Subscription Boxes
For those who love to grow plants, from beginner to keen gardener. Think outside the box, or just think monthly personalised boxes delivered at the right time to grow each month. The expert how-to-grow guides will help your Gift recipients keep up to date with what to do in their garden spaces, gaining knowledge and expertise as they go. So instead of just one Christmas gift, you can give one every month of the year for them to enjoy!
Prices start from £42 for 3 months
The Seed Pantry Micro-Pod Garden
Seed Pantry brings you the brand NEW innovative Micro-Pod Garden – because the best things in life come in small packages! Perfect for getting up close with the plant growing process. You can grow happy, healthy plants inside a mini micro-climate using full spectrum LED lights and an auto-ventilation system. Multiple settings allow you to use the pod for sun-loving and shady micro-climate plants alike.
Price: £42
For The Essential Ingredients
For growing plants and those essential kitchen ingredients, from herbs to chillies, the automated Seed Pantry Grow Pod 2 is designed to produce ultra-fresh food indoors with an LED grow light, hydroponically, with no soil, no mess and hassle-free. You don't need to be an expert gardener, the Seed Pantry Grow Pod 2 does the work for you!
Price: £79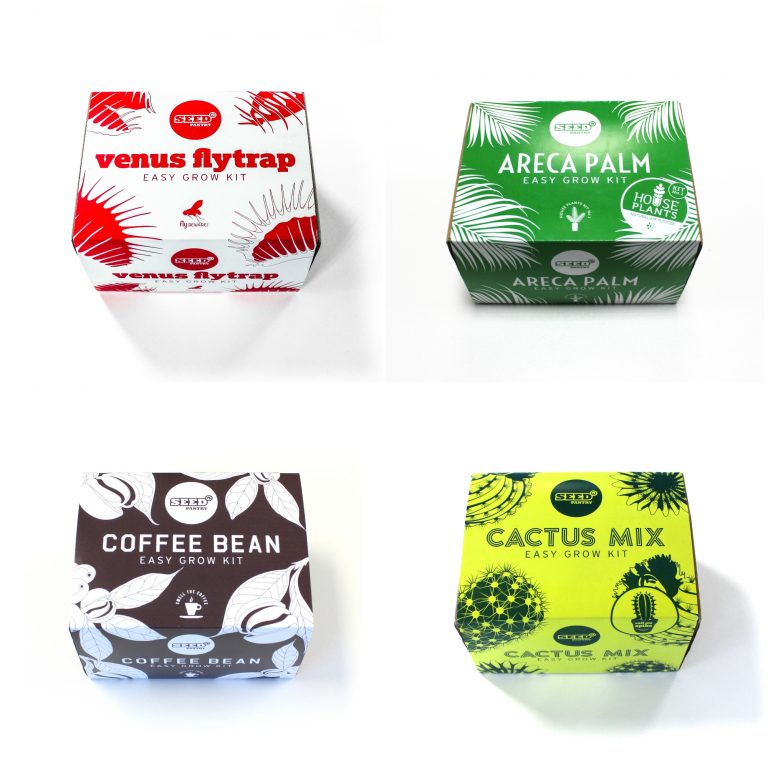 For House Plant Enthusiasts
We have a range of gifts for those who prefer keeping their gardens indoors, or simply don't have outdoor space to play with. Our Seed Pantry Easy Grow Kits contain everything you need to start growing indoor plants; Cactus, Jalapeno peppers and even Coffee bean plants!
Price from: £11
For Vegetable Patch Growers
Say Hello to our Seed Pantry Jumbo Allotment Starter Pack! Filled to the brim with everything you need to start your own home allotment veg patch. You can start propagating vegetables from seed including; tomatoes, peppers, beetroot, lettuces, beans, herbs and more. The pack is perfect for any budding gardeners and green-fingered chefs!
Price: £40
For The Thrill Seeker
For those who live life on the edge and love a challenge, we have our Hottest Chillies in the World Easy Grow Kit! Everything needed to embark on a fiery adventure is inside, including not one, not two, but three varieties of the world's hottest chilli seeds! (Guinness book of records).
Price: £12
For The Booze Lover
What could be more toast-worthy than growing your own booze? Designed for the beer enthusiast, the Craft Beer Easy Grow Kit contains all you need to grow a tipsy garden. Ideal for growing in towns and cities; each plant's harvest can flavour over 100 litres of beer!
Price: £11
For The Expert Toolbox Curator
A range of top-quality garden tools, made with love and exceptional craftsmanship, they are perfect for all gardeners. Tools from beautiful Japanese forged Garden Secateurs to life long durable spades and forks hand forged in the Netherlands. We have a tool for everyone and every garden situation.
Prices starting from: £12
For The Herb Grower
For those who are starting out and dipping their toes into the gardening world for the first time, the Herb Seeds Starter Pack is perfect! Packed with all you'll need to start growing your own delicious organic herbs at home quickly and easily; From biodegradable pots and organic compost, to seeds of our favourite herb varieties, including Basil and Coriander.
Price: £28
For The Budding Gardener
The Seed Pantry Kids Kit contains a fabulous selection of seeds that kids of all ages will enjoy growing. Think gigantic pumpkins, the tallest ever sunflowers, the sweetest sweetcorn and the fastest growing food. Some grow quickly, others take their time, but the joy of watching a tiny seed grow into a majestic plant is part of learning about the wonders of nature!
Price: £13
Happy Christmas to you all, with love from the Seed Pantry team 🌼
Visit: https://www.seedpantry.co.uk/
WIN a lucky-dip addition to your next box by sharing your plant pictures with us on Instagram. Use the hashtag #SeedPantryGrowClub or tag us @seedpantry to enter.
Subscribe to the Grow Club box for flowers, food and herb seeds ready to sow each month… Curious? Come check out all of this month's options!