The Seed Pantry Spinach 'Perpetual' has certainly lived up to it's name, but we're not complaining! We've been devising new and delicious ways to use up our continuous supply of fresh leafy greens…including this spinach and onion puff pastry tart recipe!
Ingredients:
– 350-400g spinach
– 2 tbsp rapeseed or olive oil
– 1 onion, diced
– 1 garlic clove, chopped
– 1 tsp fresh thyme or parsley, chopped
– A packet of ready-rolled puff pastry
– 75g cheese (cheddar and feta work brilliantly)
– Freshly ground black pepper and a pinch of sea salt
How to do it
Preheat the oven to 180°C and grease a baking tray with a little of the oil.
Tear out any tough stalks of Spinach and wash thoroughly. Place it into a saucepan with a tablespoon of water, cover and put over a medium heat to wilt the spinach for a few minutes. Drain and allow to cool.
When the Spinach has cooled enough to handle, squeeze as much liquid as possible out with your hands before chopping.
– 2 tbsp oil
– 1 onion, diced
– 1 garlic clove, chopped
– 1 tsp thyme, parsley, or both
Heat the oil in a frying pan over a medium heat. Add the onion and cook for 10 minutes, stirring often. Add the garlic and cook for a further 3-4 minutes before adding the fresh herbs and chopped spinach. Remove the pan from the heat and season with salt and pepper to taste.
Roll out the puff pastry on a floured surface into a rectangle shape, about 4mm thick, before lifting onto the baking tray. Spread the spinach mix over the pastry (leave a small margin along the edges). Scatter over the cheese and place in the oven for 20-25 minutes or until the pastry is puffed and golden. Delicious!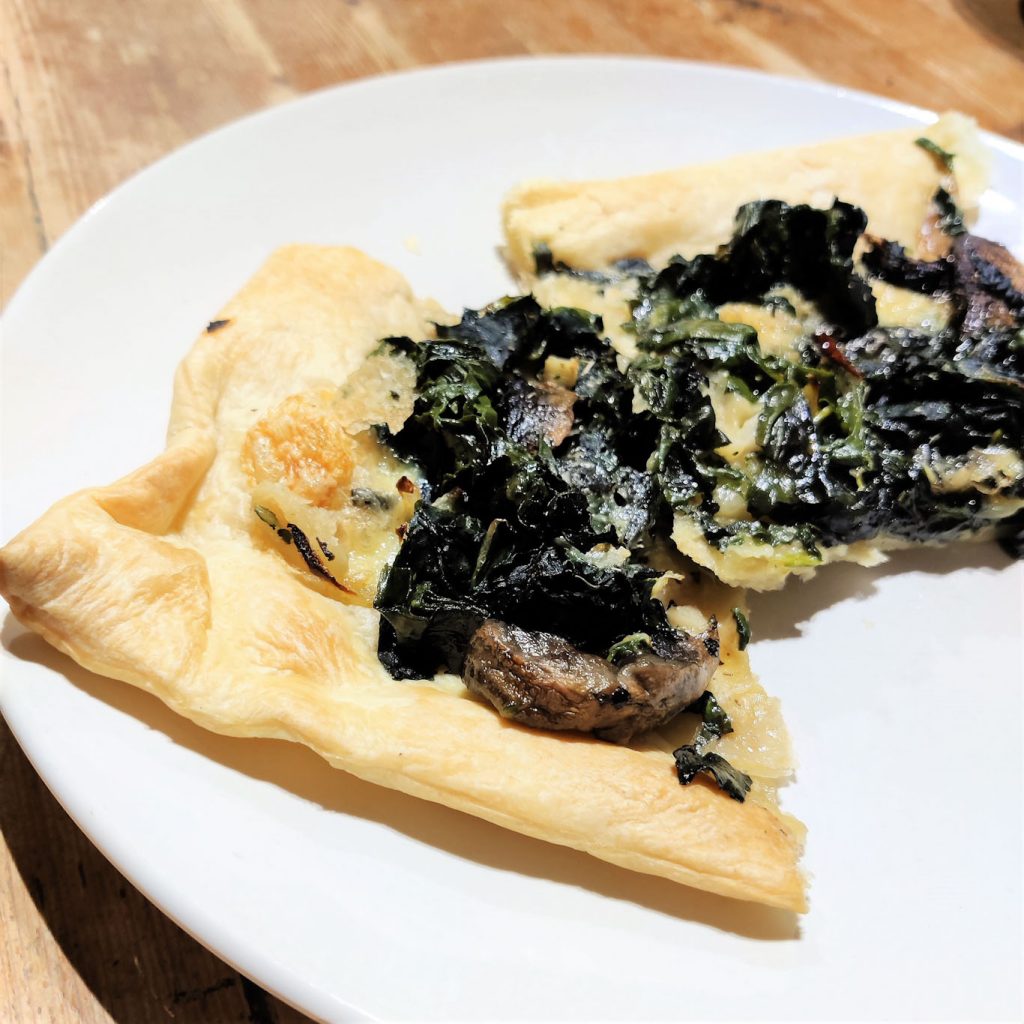 Variations
Spinach and Pesto Tart
Try spreading a layer of Pesto over the puff pastry before piling on your spinach mixture, top with parmesan cheese and halved cherry tomatoes before cooking for a Mediterranean take! If you've been growing Basil in your Seed Pantry Grow Pod, you might even make the pesto yourself with our simple recipe!
Spinach and Ricotta Rolls
For a creamy dinner time favourite, add 75g each of ricotta and feta cheese to your spinach and onion mixture. Spread over the pastry, leaving a 2cm margin along one of the long edges and roll into a long sausage shape. Cut the roll into 4 equal pieces and pop into the oven for 20-25 minutes, or until golden.
Enjoy!
The Seed Pantry team 🌼
BUY your own Seed Pantry Grow Pod 2 here…
WIN a lucky-dip addition to your next box by sharing your plant pictures with us on Instagram. Use the hashtag #SeedPantryGrowClub or tag us @seedpantry to enter.
Subscribe to the Grow Club box for flowers, food and herb seeds ready to sow each month… Curious? Come check out all of this month's options!